VIDEO: How Nyeri governor Wahome Gakuru died in freak morning accident
The death of Nyeri Governor Wahome Gakuru on Tuesday morning has shocked many Kenyans across the country and beyond.
Dr Gakuru passed on in a freak road crash at Kabati along the Thika-Sagana highway in Murang'a County.
Preliminary reports indicated that the Mercedes Benz E250 in which the governor was lost control after a tyre burst.
"I am told that there was a tyre burst and his vehicle lost control and rammed into a rail guard," said Mr Mutahi Kahiga, the Nyeri Deputy governor who spoke outside the Lee Funeral home in Nairobi, where Gakuru's body had been taken.
However, an eye witness who says he was driving behind the governor's car, blames a motorcyclist for the accident. "Nilimuona mtu wa pikipiki aliyekuwa amebeba nyama akijaribu kuchomoka ..lakini mbele yake mlikuwa na lori…sasa dreva wa gavana akajaribu kuavoid yule mtu wa mortorbike. Kama si huyo mtu wa pikipiki, gavana wetu hangekufa,' ("There was a motorbike carrying meat that suddenly appeared on the road from the side and encountered a lorry ahead of him. So, he tried to overtake the lorry by getting onto the lane where the governor's vehicle was. The governor's driver was trying to avoid killing the boda boda driver,)" said Muigai Ngengi while speaking to Citizen TV at the scene. "The accident occured at 8 minutes to 7am. The driver swerved and knocked the guard rails. Suddenly, I saw the car tyre flying in the air," he added.
7EYE WITNESSES ACCOUNTS
BLACK SPOT
He was rushed to Thika Level 5 Hospital for emergency treatment but succumbed to his injuries on arrival.
Daily Nation reported that Gakuru died as medics prepared to airlift him to Nairobi for specialised care.
DRIVER
Police said the governor's car had four occupants at the time of the crash— him, his personal assistant Albert Kaguru , his body guard Ahmed Abdi and the driver Samuel Kinyanjui wanyaga .
"The personal assistant's right hand and leg broken are broken and police were still looking for his wrist at the scene of the crash," Daily Nation reported.
The bodyguard's legs were seriously injured while the driver is okay.
Your ads will be inserted here by
Easy Plugin for AdSense.
Please go to the plugin admin page to
Paste your ad code OR
Suppress this ad slot.
Vie 
GACHAGUA
The governor was heading to the capital for talk shows with a vernacular radio and TV accompanied by his bodyguard and driver when his vehicle veered off the road and hit a rail guard.
Photos of the wreckage of the Mercedes Benz at the scene of the crash was doing rounds in social media for the better part of the morning.
Earlier, Nyeri Deputy Governor Mutahi Kahiga had confirmed the crash and assured Kenyans that the governor was in a stable condition.
Dr Gakuru becomes the second Nyeri governor to die to in office after Governor Nderitu Gachagua, who died in February this year.
Dr Gakuru's death came as his son sat for his Form Four national exams at Alliance Boys High School in Nairobi.
EDUCATION
The governor's Twitter page shows he hosted the candidate, together with some of his classmates, at his Runda residence on Monday, November 6.
Dr Gakuru holds a doctorate in Public Administration and Policy from Arizona State University, the United States. He graduated in 2004.
In 2001, he graduated with a Master's in Business Administration from Willamette, the United States.
He holds a similar qualification, MBA, from from the University of Nairobi, where he also studied for his bachelor's degree in Business Administration between 1988 to 1991.
Former Kenyan TV presenter Louis Otieno goes deaf
Former television news anchor Lious Otieno has appealed for financial help to enable him undergo specialized treatment to regain his hearing. The family has revealed that Lious Otieno, who worked for a number of TV stations including KTN, KBC and Citizen, suffers from acute pancreatitis.
The journalist has been in and out of hospital over the past few years.  The Louis Otieno Medical Fund was launched on Friday by a committee formed to raise funds to help in offsetting the medical bills. The committee said Louis lost his hearing while in hospital.
"Efforts to get his hearing fixed including using hearing aids have not been successful," it said. "During this period, he has not been able to engage in any gainful income generating activities which has been strenuous for him and family."
The only way his hearing can be fixed is by having a procedure undertaken in India called Cochlear implant. A cochlear implant (CI) is a surgically implanted electronic device that provides a sense of sound to a person who is profoundly deaf or severely hard of hearing in both ears; as of 2014 they had been used experimentally in some people who had acquired deafness in one ear after learning how to speak.
Cochlear implants bypass the normal hearing process; they have a sound processor that resides on the outside of the skin (and generally worn behind the ear) which contains microphones, electronics, battery, and a coil which transmits a signal to the implant. The implant has a coil to receive signals, electronics, and an array of electrodes which is placed into the cochlea, which stimulate the cochlear nerve.
"The cost of this very needed surgery is quite high and hence our reaching out to friends, well-wishers, former peers and anyone who feels moved to support this man get his life back again," the committee says.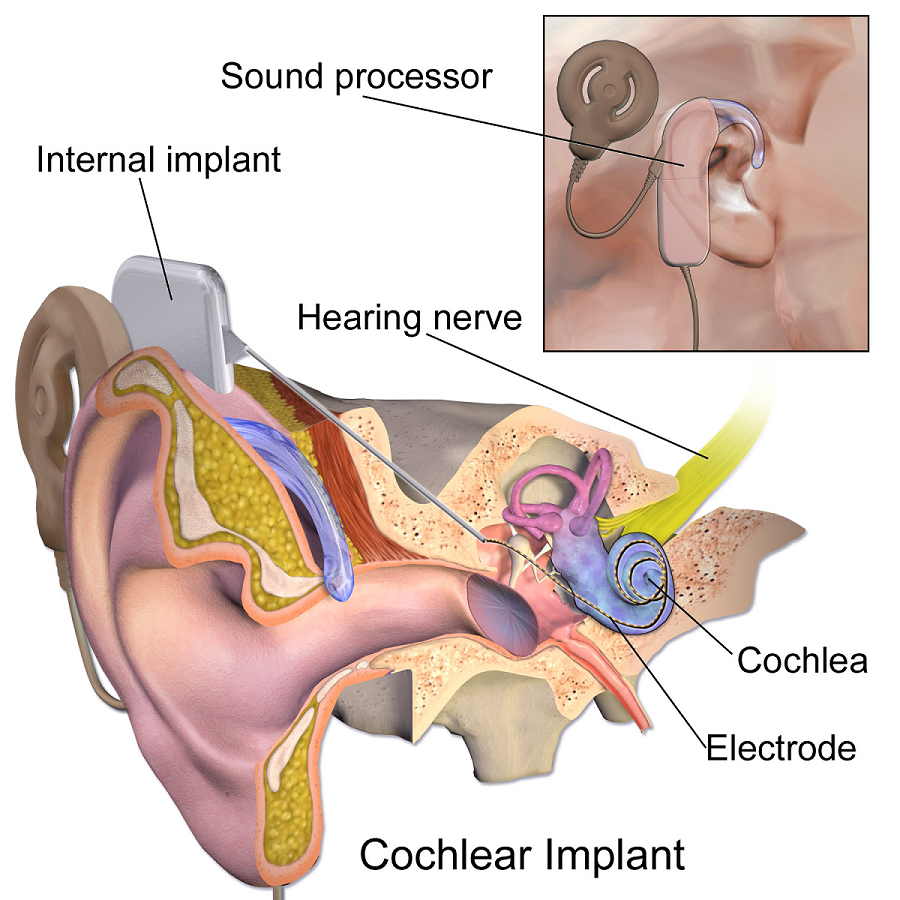 Otieno has not been in good health for the past four years. In 2014, images of a frail Lious at Matter Hospital appeared on social media, which left many wondering what had happened to him.
At the time, Louis, the son of long-time radio presenter Elizabeth Omollo, was battling alcoholism.
LOUIS OTIENO MEDICAL FUND APPEAL
The committee, family and friends of Louis Otieno would like to inform you of the official launch of Louis Otieno Medical Funds Drive. As you all may be aware Louis has been unwell and in and out of hospital being treated for acute pancreatitis. During one of his admissions, Louis lost his hearing while in hospital. Efforts to get his hearing fixed including using hearing Aids have not been successful. During this period, he has not been able to engage in any gainful income generating activities which has been straineous for him and family.
After consultations with doctors, it was agreed that the only way the hearing could be fixed was by having a procedure undertaken in India called Cochlear implant.
The cost of this very needed surgery is quite high and hence our reaching out to friends, wellwishers, former peers and anyone who feels moved to support this man get his life back again.
A pay bill number has been opened (LOUIS ARMSTRONG OTIENO.Paybill Number 333957) and is active so you can send your donations directly to the paybill. The committee is also planning a harambee to support Louis. We all know of the great work he did in media and we wish to see him continue this good work.
Join us in the initiative to help Louis Otieno gain his hearing back again!
Thank you all in advance for responding to this call and may God bless you.
Sincerely
Committee of Louis Otieno Medical Fund.
……………………………….
Troubled career
Louis Otieno took a low-profile after quitting the screen five years ago. He has been on the spot over the 2012 death of his girlfriend Careen Chepchumba, the former Kenya Power employee who was found dead in her apartment. The family believes Louis Otieno, who was dating the then 26-year-old lady, had something to do with her mysterious death. He has since denied the charges including accusations that he extorted money from her.
Careen father, Hosea Kili, made the sensational revelations at the opening of the inquest into the death of Ms Chepchumba in May 2016 before a Kibera court.
-Business Daily
Sad day as broadcaster Njoki Ndegwa of Jambo Radio passes away in Dallas, Texas
Popular Diaspora Radio show host Njoki Wa Ndegwa is Dead. Ms Ndegwa, one of Kenya Diaspora pioneer  Radio show hosts and the proprietor  of Jambo Radio Network (formerly Jambo Boston Radio) passed away Friday in Dallas, Texas.
"It is true she has passed on," a family member who spoke to this reporter Friday evening said. "We thought we were ready for any eventuality but I guess nobody is really ever ready for death…I can tell you the news of her passing has shattered me and the rest of the family," she added.
Njoki had been ill for some time, having being diagnosed with breast  cancer in 2014. Later in  October 2016, doctors told her that she had Metastatic Brain Tumors, following which she underwent treatment and several surgeries at Parklands  Hospital in Texas.
In September 2017, she lost her voice and mobility  due to aggressive Metastatic Brain Tumors.
Njoki  Wa Ndegwa required Chemotherapy,  24 hour bedside homecare services,  rent, medical supplies and specialized breathing machine.
Two weeks ago, friends, family and well wishers got together for a well attended fundraiser in Texas. Another harambee had been scheduled for this Sunday at Ushindi Church in Lowell, Massachusetts. It was in Boston, MA, that  she initially set up her broadcasting station.
As soon as the news of her death broke, her family, friends, Kenyans in US and fans from around the world took to social media to express shock and disbelief.
Before coming to the U.S., Ms Ndegwa was a successful radio personality in Kenya, working for popular radio station which broadcasts in Kikuyu language, Kameme FM .
Once here, she thought she'd be a nurse, but quickly discovered her future wasn't in medicine, choosing instead to follow the path she knew best…broadcasting.
 "I did not come to start a radio station," Ndegwa told NPR in an interview a few years ago. "When I came to the United States, it was a dream beyond realization. So I did not dare dream. I came in ready for anything. All I wanted was to be in the United States and make it like everybody else."
Her friends urged her to go back to Kenya and resume her successful radio career at Kameme FM, but Ndegwa thought, "why not be a Kenyan radio host in Boston?"
The station did well but she later moved to Texas where she set up her equipment and continued with what she did best; connect people through her radio shows. This she did until she got ill.
Watch a BBC documentary focusing on Njoki's work as a radio presenter:
On Friday night, Timothy Ndegwa, the CEO of Mykenyanlink Network, a close friend to the deceased wrote on Facebook: It's a sad day at
#JamboRadioNetwork
Confusion as Raila re-edits his Twitter Bio 4 times within 12 hours
It seems Nasa leader Raila Odinga also has difficulties making up his mind – at least on who exactly he is to his Twitter followers.
Mr Odinga has edited his Twitter bio at least four times since his 'swearing-in' at Uhuru Park in Nairobi on Tuesday afternoon.
Minutes after the event, he changed his bio to read "President of the Republic of Kenya." This did not last long as he risked losing his verification badge.
Twitter rules lists "intentionally misleading people on Twitter by changing one's display name or bio" as one of the reasons users can lose the cherished badge.
Hours later, he altered the bio to read: "This is the official account of His Excellency Raila Amolo Odinga, leader of the Nasa coalition in Kenya."
He still was not done.
The former Prime Minister changed his bio late in the night to read: "This is the official account of His Excellency Raila Amolo Odinga. Sworn in as the People's President on 30/1/2018."
RELATED STORY:
Raila edits Twitter bio with new status as 'president'
And in the morning, it had changed to: "This is the official account of His Excellency Raila Amolo Odinga."
-Nairobi news