US rolls out new fraud-proof Green Cards
Voice of America is reporting that the U.S. Citizenship and Immigration Services (USCIS) begun issuing new tamper-resistant green cards on May 1st, 2017, making it very difficult for prospective fraudsters to tamper with it.
VOA said Monday that he redesigned cards, which have enhanced graphics and additional security features, are more secure than the old ones.
"The new card designs demonstrate USCIS' commitment to continue taking a proactive approach against the threat of document tampering and fraud," VOA quoted  USCIS as saying.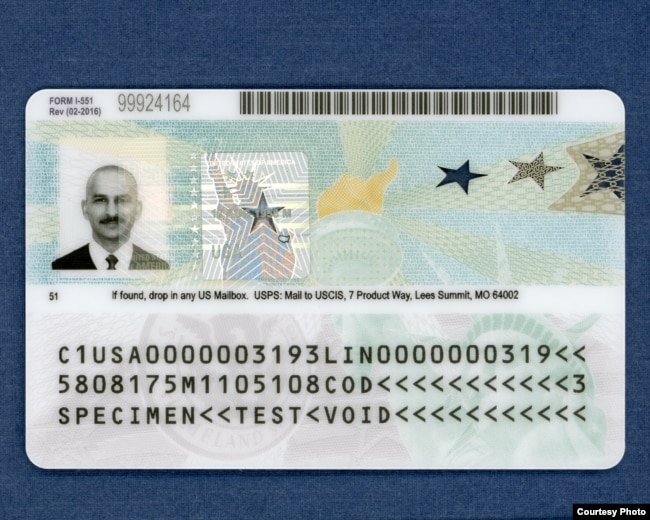 USCIS says that he new green cards will:
* Display the individual's photos on both sides.
* Show a unique graphic image and color palette.
* Have an image of the Statue of Liberty and a predominately green palette.
* Have embedded holographic images.
* No longer display the individual's signature.
* No longer have an optical stripe on the back.
While May 1 is the launch date for the new cards, USCIS says some of the old ones may still be issued until they have run out.
Both old and new cards remain valid until they reach their expiration dates.
While the cards are new, the rules governing green card eligibility and the application process remain the same.
VIDEO: For Kimani Wanguhu, 22 years in US have borne fruits as he owns 2 successful business in two worlds
BY BMJ MURIITHI
Meet Wilson Kimani Wanguhu. He has lived in the US for 22 years where, besides getting an education, he has also learnt the ropes. Just like many who have relocated from Kenya to US, it was not easy at the beginning. When he landed in the US in 1996, he struggled to pay his fees and sustain himself. "I used to flip burgers and later sold petrol at a gas station," he says.
But now those are distant memories. His entrepreneurial streak has seen him venture into business and he now sells insurance in the Atlanta, Georgia and water in Nakuru, Kenya.
Wanguhu has put up systems that enable him to run businesses in both cities effectively and his story is an example of the impact of remittances from Abroad. He  says having lived in a country where systems function like clock work, setting up shop in Kenya has had its fair share of challenges.
The former CEO of Kim Media Group and publisher of Kenya Empowerment Newspaper is however upbeat and quite happy with what the has achieved so far. He co-owns Ameritrust Insurance Group and has teamed up with his mom and his younger brother, Ezekiel Manyara, as the co-proprietors of Riftdrops Limited, a water bottling Company with its headquarters in Nakuru.
"If you are doing well in Kenya, stay there…," he advises would-be migrants. He spoke to Alex Chamwada in this week's episode of  Daring Abroad. Here is his story.
Larry Madowo threatens to delete his twitter account over trolling
BY BMJ MURIITHI
Embattled Kenyan journalist Larry Madowo says he is ready to quit Twitter if the San Francisco headquartered company does not respond to his complaints.
In an opinion piece in the influential American Newspaper Washington Post, Madowo says  Twitter is hopelessly broken and often tone-deaf.
"I have over 1 million twitter followers and I am ready to quit," writes Madowo.
Though one of the most popular media personalities in Kenya with a huge following, Madowo equally has a fair share of "haters" who troll him on social media. A case in point is a photo he posted while in the Emergency Room (ER) after a bicycle accident on Friday with the caption:
"Check out my hot new arm accessory after a trip to the ER for a bad fall while cycling. I'll be rocking this baby everywhere."
This did not seem to go well with his critics who, in their thousands, made very derogatory comments.
Rozah Njiruh wrote: "In hospital bed and enjoying as if in a 5 Star hotel? Only that you have money to waste. An ordinary Kenya will break his arm and go for kibarua. In the mean time, NASA died yesterday."
Wagacunga wrote the following in KSN's comments section : "Isnt it strange how people in the public eye use the media when it suits them. Like posting a picture of oneself on a hospital bed smiling like the cat that got the cream. When people criticise their action, they cry foul. Why should you not be trolled? Kenya is a country where people cant afford (majority) to go to your kind of hospitals. That picture is sure to irk many. Close your account by all means. Twitter wont die because you aint there."
A clearly liid Madowo has told off Twitter for ignoring those in the rest of the world. "If you think Twitter is a mess in America, it is even worse for the rest of the world.
Says he: "My experience on the platform has been the most degrading experience of my career. I am constantly considering deleting my account for good. If nothing changes soon, I will have no choice but to deactivate it and walk away from the vile, toxic mess it is for heavy users with strong opinions like me.
Hate and abuse are now synonymous with tweeting, but Twitter's indifference (or inability) to deal with it has been particularly damaging. I've reported multiple accounts that directly threatened me or whose abuse crossed a line — yet there is almost always no response from Twitter — especially if the offending tweets are in local languages. In the most egregious instances, offenders just registered new accounts to continue their hateful campaigns after I blocked them."
Trolling has been taking a toll on Kenyan celebrities in the recent past as "hate speech" continues to spread on social media like bush fire.
Madowo recently discontinued his engagement as a Daily Nation columnist after his seniors refused to publish last week's #FrontRow article, which was critical of the government's decision to shut down four television stations and how media managers handled the situation.
Tillerson taken ill in Nairobi, cancels day's events
US Secretary of State Rex Tillerson, who is on his first-ever Africa tour as Washington's top diplomat, on Saturday cancelled his programme in Kenya because he was feeling unwell, officials said.
"The secretary is not feeling well after a long couple days working on major issues back home such as North Korea and has cancelled his events for the day," said a brief statement from Undersecretary of State Steve Goldstein.
The audacious diplomatic gambit, which was taken before consulting key confidantes including Tillerson – who was in the Ethiopian capital Addis Ababa at the time – left aides scrambling to catch up.
Just hours before the summit announcement, which emerged late on Thursday, Tillerson had said Washington was "a long way" from talking directly to North Korea as he kicked off his five-nation Africa tour.
The US diplomat, who arrived in Nairobi on Friday, had been due to visit the AIDS-relief programme PEPFAR on Saturday and also attend a ceremony marking 20 years since Al-Qaeda bombed the US embassies in Kenya and Tanzania, killing 224 people.
Plans to lay a wreath at the site could be rescheduled, Goldstein said.
Tillerson is due to travel to Chad on Monday then on to Nigeria a day later.
-Capital FM