Kenyan-born professor dies in US, family seeks help to transport body home for interment
http://changtengyuan.com/?q=viagra-low-cost-in-italia is it legal to buy from online canadian pharmacies DEATH ANNOUNCEMENT
It is with profound sorrow that we inform you of the death of our beloved Professor Joseph Muriuki Wahome of Mississippi Valley State University, a 1995 doctoral graduate of University of California Berkeley, 1987 and 1990 Bachelor and Master of Science graduate of University of Nairobi, respectively. Born and raised in Karatina, Kenya and passed on last week at his home in Mississippi.
He was a father, husband, son, brother, and wonderful teacher, and professor to many. An intellectual powerhouse of our time, our generation has lost one of it's great minds. We will greatly miss him. Let us keep his family in prayer, and console them.
A team for his funeral arrangements is being put together here and in Kenya, and the family announces that Our Beloved Professor Muruiki Wahome shall be buried in his ancestral home in Karatina, Kenya.
A goFund account is being setup for well wishes to help in this journey. We will be informing you as plans develop. Please keep in touch and stay informed of any developments on this channel. On behalf of the family- Agnes Muruiki, Elizabeth, Mimo, and Wahome.
Contacts;
Agnes Muriuki – 478-919-6099
Martin Nganga 508-373-3496
Samuel Njoroge-770-906-1700
Dr. Joseph W. Wekesa 900-534-7508
Dr. Peter Gakunga- 210-501-4067
Mrs. Naomi Wanjiku
Mrs. Joan Wakoli
what is the normal dose of viagra Kenya Satellite News Network will update as information becomes available.
viagra price drop canada A tribute from the University
Dr. Joseph Muriuki Wahome, a former associate professor of biology in the Department of Natural Sciences and Environmental Health Mississippi Valley State University, passed away last week in Greenwood, Ms.
A native of Kenya, the 55 years old Wahome will be remembered at MVSU for his love of science and research.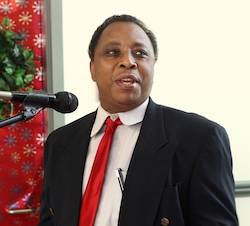 "He was brilliant," said Dr. Kathie Golden, Wahome's friend and former colleague. We would banter and argue, but we were never mad with one another. He always promised the take me to Kenya one day."
Golden said Wahome was well-liked by students, particularly international students, and was always willing to help sponsor International Week activities.
"He was an international student, so he had an affinity for it and understood what it meant not to be able to go home for the holidays," said Golden. He enjoyed helping students perform research, and did all he could to help student-athletes. I've never had a student to complain about him."
Wahome joined MVSU's faculty in 1995 as an Assistant Professor of Biology.  Prior to that, he was a post-doctoral researcher at the National Park Service's Golden Gate National Park, Calif.
During his graduate career at the University of California-Berkeley (1990-1995), he served as a graduate student instructor, coordinator of the UC Berkeley Education Abroad International Outreach program and as an assistant in the Education Abroad Office.
During his tenure at MVSU, Wahome held positions with other universities and research organizations. He was a member of the research faculty at the National Marine and Fisheries Science Center in Miami, Fla., a master trainer at the University of Miami and Miami Museum of Science Technology Project, GEMS Associate at the UC Berkeley Lawrence Hall of Science, visiting researcher at Baylor University and associate faculty in the University of Pittsburg Semester at Sea program.
At MVSU, Wahome was engaged in several research projects and held a variety of positions.  From 2000 to 2001 and 2014 to 2015 he was vice-president of the Faculty Senate, and as senate president from 2015 to 2017.  Wahome served as chair of MVSU's Natural Sciences and Environmental Health Department from 2002 to 2010, during which time he also served as chair of the IRB and Animal Care and Use committee, director of MBRS program, LSMAMP and MBRS Programs.
Wahome was an active researcher, conducting research with both students and faculty that was frequently presented at the Mississippi Academy of Science annual meetings. He published several articles that focus on animal behavior and environmental issues.
Wahome received a Bachelor of Science with honors in 1987 and a Master of Science in Biology of Conservation in 1989, both from the University of Nairobi Kenya. He earned a Ph.D. in Zoology from the University of California, Berkeley in 1995.
SA-based Kenyan journalist Christine Esipisu speaks to VOA on the unrest in the country
BY BMJ MURIITHI
The situation in North West province of South Africa escalated Friday as violence mounted on the third day of riots that paralyzed the city of Mahikeng as the locals protested against corruption, lack of jobs, hospitals and better living conditions, among other things.
It got so volatile that it forced the country's president, Cyril Ramaphosa, to cancel his engagements at this year's Commonwealth Summit in London, where he was also pitching to multinational investors with a message that "S Africa is open for business." He had to hurriedly return home to try and contain the situation in the town that is about 300 km West  of Johannesburg.
For three days in a row, crowds had taken to the streets in and around the capital of the province  calling for the resignation of the territory's premier Supra Mahumapeloa.
In recent weeks, unions and businessmen in the region have been calling for Mahumapelo to resign over allegations of corruption in the award of state tenders but he has denied any wrongdoing.
Speaking to Voice of America's Harrison Kamau Friday, Ms Christine Esipisu, a South Africa-based journalist said the premier was being accused of corrupt tendencies.
She said that upon arrival from London, Mr Ramaphosa went straight into meetings with the local leaders in an attempt to quell the situation.
"Soon after arrival in the Northwest Province, to try and quell an outbreak of violent protests that forced him to cut short a visit to a Commonwealth summit," She said. "
"He is holding meetings with officials to discuss the demonstrations against corruption, poor public services and the local government which is led by a member of his ruling African National Congress (ANC)," she added.
Listen to VOA's Harrison Kamau as he  interviews South Africa-based Christine Esipisu on the radio show, "Indepth:"
"We want the president to tell Supra he must go. That man is full of corruption," 25-year-old Oratile Seadira, a construction worker who lives in a shack on the outskirts of Mahikeng, was quoted  as saying.
Ramaphosa, who replaced Jacob Zuma as president in February, has staked his reputation on rooting out the corruption and mismanagement associated with Zuma's nine scandal-plagued years in power. His critics have however accused him of abetting the vice by "appointing people who have been accused of corruption into his cabinet."
"We have nothing. No houses. No good schools. No hospital. People are saying they will burn the city if he doesn't go." The streets around him were quiet as Ramaphosa arrived.
Miriam Visage, 52, told the media that she and other South Africans in the region had been neglected.
"We have been neglected. We want Cyril Ramaphosa to come and see how we live, to scramble in the mud like us," She said.
She added that she lives in a two room township house with her six children and seven grandchildren.
"The ANC is full of empty promises," said Visage, accusing the police of firing live rounds during the protests. "We were very peaceful. Do they think we are wild animals to be shot?"
Drama as 80-year-old man demands divorce, share of millet and pans
A jilted old man, 80, and wife, 79, are locked in an unusual divorce case and property wrangle that has bounced back and forth between village and sub-county authorities without resolution.
The Ugandan man, Paul Osinge, filed the case before the Akaramai village committee, seeking separation from his 79-year-old wife, who he claims has ejected him and has moved on with another fairly young man of 60 years.
The estranged couple accept they have lived peacefully for the last 18 years in Akaramai Village, Labori Sub-county, Serere District, but disagree whether it was as husband and wife.
The frail looking Osinge said his decision to seek separation from Norah Iningoi, 79, is a painful one.
"I felt a sense of both rejection and dejection as my wife has for the last two months moved on with another fairly young man," he lamented.
But Ms Iningoi, a mother of six, with multiple grandchildren, dismisses Mr Osinge's claims that they have been living as wife and husband.
Speaking from her home at Akaramai Village, Labori Sub-county, Ms Iningoi said: "I hosted him here since 2000 as a gesture of humility and hospitality, not as my husband. His claims of being my husband are lies. At my advanced age! Do I look like a young woman with feelings?"
But Mr Osinge, a father of five children and nine grandchildren, said he understands they have not married officially but seeks fairness in the split.
He said Ms Iningoi has stayed with him and wasted his productive years at her home.
"My going to the area village committee is to help us divide the five bags of dried potato chips, chicken we have raised together, a bag of sorghum, a bag of millet, saucepans, and one goat we equally worked for, and I will leave her home," Mr Osinge said.
where do i buy viagra vancouver Official stuck with case
But the divorce case is stuck before the Labori Sub-county community development officer, Mr Mathias Elau, who said the case is unusual.
"I received the cries of that 80-year-old man, but I couldn't handle the case. I referred him to his area village committee to handle," he added.
Mr Osinge told Daily Monitor that until February, they had lived amicably as husband and wife, but his wife's attitude suddenly changed.
"I got to learn later that in my absence there was a fairly young man in his 60s, who has been filling my space," he said.
To his surprise, he said, he discovered it was the wife of one of his sons, who was a matchmaker for her mother-in-law.
Mr Osinge said his companion has thrown him out of their house and tossed his beddings to the kitchen to officially create room for her new love.
But Ms Iningoi said she made up her mind to kick out Mr Osinge because he was much of a liability, only eating food she toils for.
"I told him that now that you have aged, kindly look for the whereabouts of your clansmen, in case of any sickness, I may not be of help because I am also now frail," she added.
She said this did not go well with Mr Osinge. "It's here that he started to frame me as being in love with another man."
Ms Iningoi said out of goodwill, she offered Mr Osinge a bag of dried potato chips, but he reportedly sold off the entire bag, and has now placed additional claims for her property before the village committee.
But Mr Samuel Okello, one of the grandsons of Mr Osinge, received the news of his grandfather's ejection with joy.
"It is a wakeup call for him to go and resettle with his clansmen in Kyere Sub-county, Serere District, where he deserted 56 years ago.
Mr Peter Aisu, the area village chairman, together with his committee members, said their attempts to mediate a peaceful separation between the two have not yielded any fruit after Ms Iningoi refused to share any property.
"As the village committee, we looked into the contested property, and thought they would divide, but the old woman has not bought the idea," he said, adding that they will refer the matter to the sub-county.
-monitor
I truly love my 54 year old American boyfriend, says 21 year old Kenyan woman
A Kenyan student in the United States is the subject of discussion after her relationship with her American boyfriend became a trending topic over their age-gap.
Speaking to Mail Online, Rehab Kimani, 21, said she met Joe Singiser, 54, through work at a nursing home in New Jersey.
 A student and home health aide, Rehab said that her friends got disgusted by her choice of boyfriend. They even stopped her from talking about her man whenever she was around them
"I thought he was very attractive and immediately wanted him," she revealed. "I really liked his big muscles and that everyone at work was afraid of him."
Rehab also reveals that despite being very comfortable on their first date, it was hard for her to deal with the way her family reacted as they did not take it positively.
"I just see him as my boyfriend and my best friend. If anything, the difference is that I take this relationship as more serious than previous ones. It took everyone a long time, but they are finally understanding of us being together." She said.
Mr Singiser is a father of four and Rehab's supervisor at work. He says he was 'startled' when he got interested in his younger employee but opted to press on with the relationship because he knew it was true love.
He says he noticed her beautiful smile from the across the room and would find excuses to come out of his office just to see her.
Rehab says that she no longer sees the age difference. However, they do draw looks from strangers on the streets.
"We get looks while in public all the time," she said. "Someone even came up to me once and said I should be ashamed of myself because I just want his money. I did get sensitive, but I just walked away."
The couple, who have been together for a year now, lives together and are planning on starting a family together having started discussing the possibility of marriage and having children.
-Standard