Generative AI is moving fast, sparking new and exciting conversations around the potential of AI. But what we also see are the very real anxieties, complexities, and hurdles ahead of organizations navigating the uncharted waters around this technology cluster. 
It all boils down to a simple question: how can generative AI deliver tangible business value? A question that's no different for teams implementing predictive AI. 
We, at DataRobot, have the privilege of witnessing firsthand the challenges faced by companies in realizing value with AI. The three biggest hurdles that we see are:
Silos across generative and predictive AI lifecycles.
The need to explore and evaluate new and rapidly evolving technologies. 
Insufficient integration between the existing enterprise ecosystems and existing data and AI investments that undermines value generation.
At the same time, the pressure on AI teams to deliver on sky-high expectations of what's possible with AI is building up. 
With the DataRobot Summer '23 Launch, we're announcing innovations aimed at addressing these challenges today by delivering a consistent experience for development and management of generative and predictive AI projects across your cloud data warehouses, data lakes, practitioner tools, and business applications.
Generative and Predictive AI: the Best of Both Worlds
At DataRobot, we see the fusion of generative and predictive AI as one of the primary sources of future value, and we've combined the best of both to help you drive differentiated value at scale. 
To highlight this potential, as part of the Summer '23 Launch, we showcase an example of how we're using predictive and generative AI to create GenAI solutions people will trust. 
With DataRobot, generative and predictive AI becomes a streamlined and effective process, designed to overcome the biggest challenges and roadblocks on the path to value.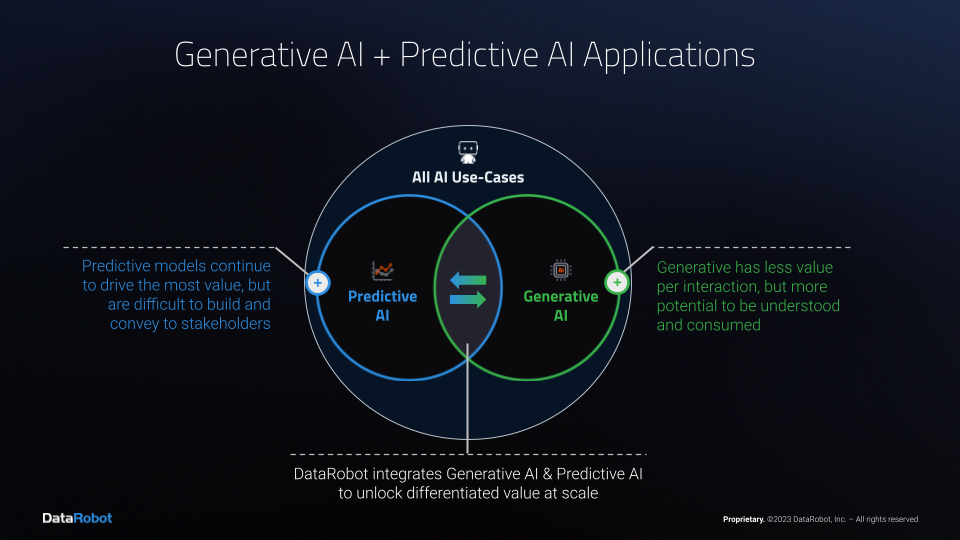 And that path all begins with your users and stakeholders… 
Build Interactive Generative and Predictive AI Apps Your Users Will Love 
In our new release, we've closed the gap between consumption, production, and experimentation. After all, what good is an AI solution if your users can't use it, or don't understand how to use it. 
With our newly introduced Streamlit app hosting you can build bespoke generative AI applications and then deploy and share them in an instant, with just a few lines of code. By tightly integrating consumption, experimentation, and production together you and your teams can volley back and forth between building your GenAI solution and prototyping the GenAI app experience quickly and easily. This makes it easy for you to curate rich interactive applications people want to use. But you don't just have to build apps to get GenAI to your users. You can easily meet your users wherever they are by easily integrating generative AI into your organization's operations and business systems—Slack, Salesforce, BI tools, and more— with just a few lines of code.
We've also made it effortless to create fully interactive, meeting-ready predictive AI insight apps without any code required. These insight apps include business and model templates, facilitating explanations of results in business-friendly language. With features like what-if analysis, optimization, and simulation of future scenarios, data science teams can effectively translate predictions into interactive, visually intuitive insights. 
Quickly Create AI with a Modern, Live Code-First Experience
We recognize the need to streamline AI experimentation and prototyping and so are investing even more into the DataRobot Notebooks capabilities—to help you focus on creating predictive AI and generative AI use cases. In the background, we handle the infrastructure and project organization, so you don't have to. 
Our API-first integrations let you stay in the driver's seat for your generative AI initiatives – you can manage LLM selection, safeguard data privacy, and control financial aspects of your generative projects. The flexibility and openness of our platform lets you use any LLM, use embedding methods and vector databases of your choice, and rapidly experiment and optimize your prompts to deliver an accurate, user-friendly experience, suitable for your specific generative AI use case. As a bonus, with our built-in notebooks solution, you no longer need to design, configure, manage, and scale infrastructure. 
Additionally, new deep learning and NLP features for text-based AI, like the seamless integration with Hugging Face models, end-to-end support for PDFs, and embedded foundational models for preprocessing tasks, further simplify the handling of unstructured data necessary for generative AI use cases.
To further improve the process, DataRobot Notebooks allows you to jumpstart any AI project with a variety of ready-to-use code snippets and libraries (Generative AI and Predictive AI Accelerators),  new task specific API commands, and the Azure OpenAI-powered code assistant (now available for public preview).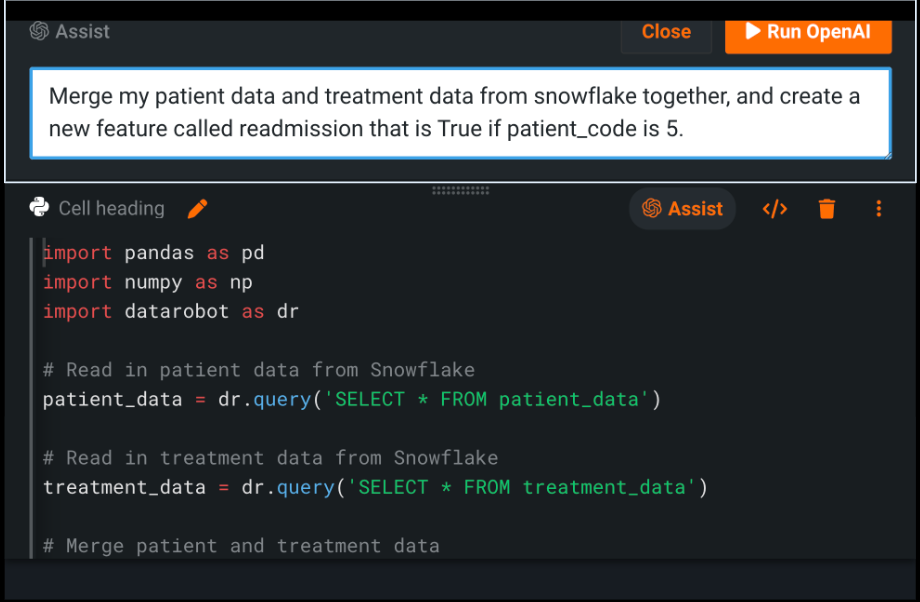 Unify AI Management and Governance Across your Ecosystem 
DataRobot has simplified the management of hybrid generative and predictive AI environments. It offers governance and monitoring capabilities that allow organizations to track model performance and ensure responsiveness. DataRobot AI Production offers a 360-degree view of all generative and predictive AI assets, irrespective of their deployment and origin. 
You can manage and "deploy" vector databases and API-based LLMs, create monitoring SLAs for generative AI projects, and organize both generative and predictive AI assets in a single registry, while the platform ensures unified and standardized compliance, security, and governance policies across all your AI assets and cloud-environments. And, to ensure generative AI costs don't spiral out of control, DataRobot will help you monitor LLM usage.
Trust in Generative AI and Guarantee Performance
Building trust in AI is crucial for widespread adoption. One of the common challenges with generative AI is the potential hesitation to fully rely on automated content. Especially in light of news about erroneous generative AI outputs and AI hallucinations. 
DataRobot addresses these concerns with custom performance metrics and by combining predictive AI with generative AI. With DataRobot, you can go beyond basic monitoring – we let you define custom performance metrics like toxicity monitoring, or whether your LLM is staying "on-topic" to protect your business reputation. 
An Established Path for Generative AI Success
Many clients and prospects that we talk to are facing pressures to deliver their strategic plan for generative AI right now. 
And while our platform is built to help you do it yourself, from robust generative AI workflows to advanced monitoring and retraining capabilities, we also recognize the importance of applied AI expertise, which is hard to come by in this complex and relatively new space. 
DataRobot is one of the very few organizations that can deliver this expertise, with our decade of experience, thousands of customers, and tens of thousands of use cases. 
That's why we're introducing several enablement products that can help you deliver value with generative AI.
Generative AI Strategic Advisory and Technical Enablement Services
Systematically identify and prioritize high-value opportunities with our generative AI roadmapping sessions.
Quickly get all your leaders up to speed with our "Generative AI for Executives" program.
Generative AI Service Packages
Learn how to build, optimize, and monitor generative AI applications at scale with live workshops and hands-on labs.
Get dedicated support and fastrack your initiatives with our GenAI Execution Support.
Build a Unified Intelligence Layer Across your Cloud and Hybrid Environments 
We know that your AI projects don't exist in a vacuum, which is why we continue to extend and enhance our integrations with your existing data and analytics infrastructure. 
We've enhanced our native integrations with Google and Snowflake. Now you can fastrack data preparation like deduplication, table joins, and aggregations all in Snowflake and Google BigQuery, without ever moving your data. We ensure that you retain full control and security over your Google and Snowflake environments, while still allowing access, by utilizing OAuth, Key-Pair Authentication, and Service Accounts.
We've also made it easy for your streamline AI Production pipelines – ingest Airflow data, run predictions on Databricks Spark clusters with simple python code, or deploy models to AzureML in a single click.
Other updates include our Single Tenant SaaS offering that is now available both on Azure and AWS to help you maintain complete control over your infrastructure, including a HIPAA-compliant option for AWS, as well as native support for Azure Kubernetes Service for Azure users.
These are just some of the highlights of our latest release. I recommend checking out the on-demand Summer '23 Launch event to learn more about all of our new features and hear from two of our customers who have already embarked on their GenAI journey with DataRobot. 
This is just the beginning of what's to come at DataRobot. We have so much more that we're working on for fall, so stay tuned.
About the author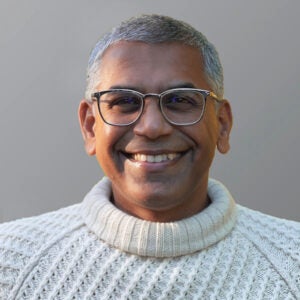 Venky Veeraraghavan leads the Product Team at DataRobot, where he drives the definition and delivery of DataRobot's AI platform. Venky has over twenty-five years of experience as a product leader, with previous roles at Microsoft and early-stage startup, Trilogy. Venky has spent over a decade building hyperscale BigData and AI platforms for some of the largest and most complex organizations in the world. He lives, hikes and runs in Seattle, WA with his family.